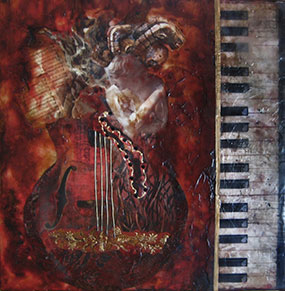 I have been involved with art in some form, for most of my life. Mostly self taught, I have taken various workshops over the years, and in the last year 1/2 I have been studying with the renowned Mexican artist Quetzally Hernandez Coronado.
In the beginning of 2010 my work began to change and evolve more than ever before. I now use more materials, encaustics, oils, acrylic, special objects. I started to pour paint, and add assemblage, and the prose I have written with some of my paintings has began to tell stories that give each a life beyond the canvas.
Every day I find a stronger calling to look further into feminine & spiritual concepts, and how I want to express them in surrealistic scenarios. I constantly wonder where, how & why I exist in the world as I do. All the while trying to find my own personal stillness in a mind that is constantly reviewing my dreams.